All businesses have one thing in common. They must successfully communicate to customers and possible prospects. It's up to you, as a business owner, to make that communication effective…
Now imagine how your business would benefit if you could communicate what your business has to offer and why you're better than the competition… wherever you go. And we're talking effortlessly advertising it – no handshakes or business card exchanges needed.
Sounds pretty great, right? So what's this cost-effective method of growing brand recognition and getting your name out there? 
A vehicle wrap! You could be delivering a product, traveling to meet a client, sitting in traffic on the highway… and your business is getting advertised to every person you pass. Invest in visibility!
Vehicle Graphics: What's What
There are a lot of variations in vehicle wraps and graphics. If you're considering turning your vehicle into a billboard on wheels, there are a few options to consider:
Spot Graphics: This would be your logo, phone number… just your standard decals on your doors, rear window, or wherever you'd like. It's an economical way to get your most important contact info out there! All you need is a number on your bumper to get that phone ringing.
Partial Wrap
More than just a few spot graphics, but still only covering only the most strategic and visible parts of your car. With partial wraps there's a lot more space to share your info while on the go. Keep customers walking through your door with cool graphic elements and a dynamic design.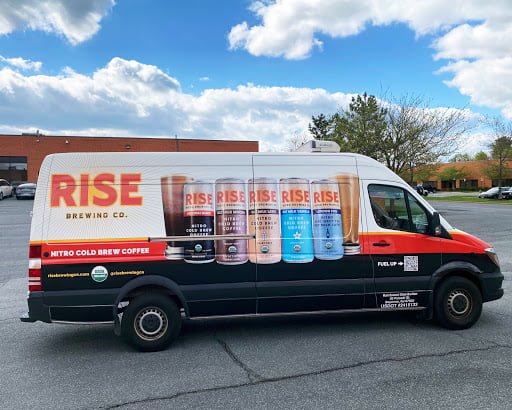 Full Wrap
You get to cover every side of your vehicle, including the windows! This is for those who really mean business. Full wraps will turn heads while on the highway and build brand recognition: show off products, share your business message, and rep brand color with a high contrast, digitally-printed design. 
For successful vehicle graphics, it's important to follow a few rules:
Graphics should reflect your business and match your branding!
Graphics used should be designed with your vehicle in mind – considering the shape and color of your car, van, or truck is important.
The text used should be bold and easily read… keep in mind even the smallest words should be legible even if you're zipping down the highway!
Food Truck Branding On-the-Go
By now, we all know the convenience of a food truck. Great for breweries, festivals, or just picking up a quick lunch outside your office. Chefs are turning to the food truck because of its lower overhead cost when compared to the standard brick-and-mortar restaurants. But as the popularity of this dining option increases, so does the competition.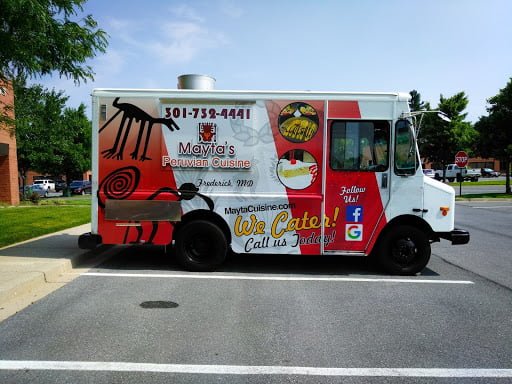 A full wrap will make your truck stand out, even when your competition is parked right beside you.
So if you're considering investing in a food truck, a vehicle wrap is a MUST. You can build your brand and ensure your truck is recognizable, all while putting your most professional foot forward. Soon your truck wrap will remind people of good food and good service, and you'll have a line outside your window.
Effective Advertising
So if you'd like to:
Build brand recognition

Show off your professionalism

And effectively communicate with prospective customers (especially those you'd otherwise not be able to reach)
Invest in a vehicle wrap!
At AMI Signs, we're here to work with YOU. We've implemented a customer success program to ensure you're getting the very best out of your marketing investment, both in craftsmanship and customer service! Interested in a billboard on wheels? Reach out at info@amisigns.com, or give us a call at (301) 682-2349.